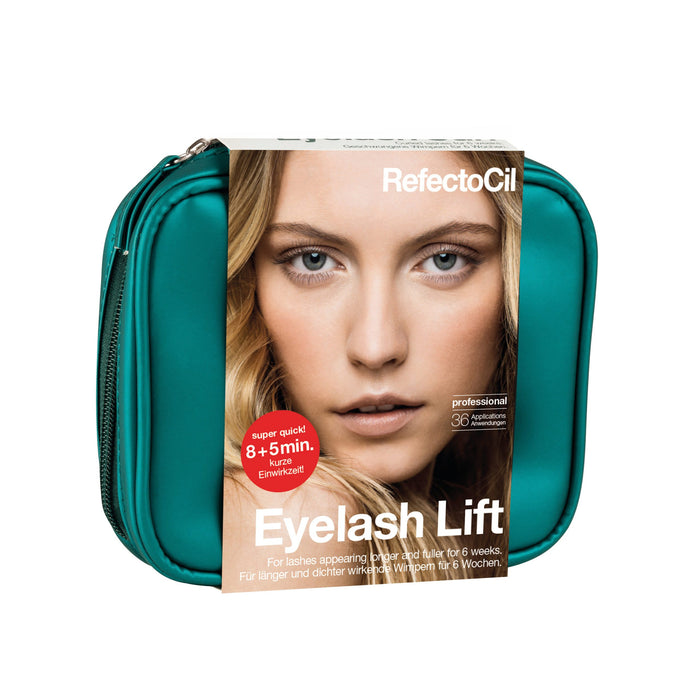 Refectocil Eyelash Lift Kit
Save

20

%
Save

20

%
Original price
$149.99
-
Original price
$149.99
Lift those lashes in only 13 minutes!
RefectoCil Eyelash Lift, for the perfect look without mascara and mechanical lash curlers while doing sports or at the beach! The Lifting works in a worldwide record time of just 13 minutes, the effect lasts up to 6 weeks!
Lashes appear much longer and fuller while they get nourished. The unique formula containing collagen & cysteine works in JUST 13 minutes. The especially developed lifting pads, made in Germany, fit along the curvature of the lid perfectly, are available in 3 sizes, and can be used up to 100 times. The lashes can be coloured immediately after the lifting treatment.
Usage
Remove contact lenses. Clean the eye area with Micellar eye make-up remover and Saline solution.
Select the lifting pad size depending on length and desired effect.
Apply glue to the back of the lifting pads – allow it to dry. Attach the pad to the eyelid.
Apply glue on lifting pad and fix lahes.
Apply lashperm – 8 min.
Apply neutralizer – 5 min.
Tint lashes while they still are on the pad – 2 min.
Remove colour and pads with wet cotton.
Ingredients
Lashperm: Aqua, Thiolactic Acid, Cetearyl Alcohol, Ammonia, Ammonium Bicarbonate, Hydrolyzed Collagen, Ceteareth-20, Parfum, Sodium Cetearyl Sulfate, Cysteine Hcl, Sodium Laureth Sulfate, Ci 47005, Sodium Sulfate. Neutralizer: Aqua, Cetearyl Alcohol, Hydrogen Peroxide, Sodium Laureth Sulfate, Citric Acid, Sodium Phosphate, Parfum. Glue: Vp/Va Copolymer, Alcohol Denat., Aqua.
Kit contains
2 x Lash Perm 3.5ml - Expires 2 months after opening
2 x Neutraliser 3.5ml - 

Expires 2 months after opening

1 x Glue 4ml - Expires 3 months after opening
1 x Application Stick
2 x Mini Cosmetic Dishes
2 x Cosmetic Brushes
2 x Lift Pads per size S,M,L
Instruction Manual
Use: 36 Applications